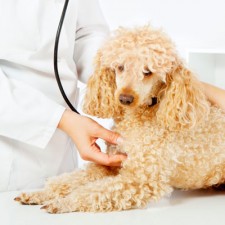 Many dog owners think of their canine buddies as family members, and it isn't hard to understand why. Our four-legged pals are there for us through thick and thin, offering doggy kisses, tail wags, and unwavering love and loyalty. Sadly, our furry friends have much shorter lifespans than we do.
Fido may go from a playful pup to a distinguished older gentleman in what seems like a very short time. As your pooch ages, he'll still be the same loving, loyal, perhaps slightly goofy companion, but his needs will change a bit. Below, a Lafayette veterinarian offers advice on caring for Fido during his golden years.
Diet
Your dog's diet plays a huge role in his overall health. Get Fido highest quality dog food you can afford, and try to avoid giving him fatty treats. We know, those big puppy dog eyes are hard to resist, but it's for his own good! Dogs with arthritis, hip dysplasia, and other ailments may benefit from supplements, such as fish oil. Ask your vet for specific nutritional advice.
Exercise
Fido may slow down as he ages, and may slowly become more interested in napping than playing. Don't overexert the old guy, but don't let him become a complete couch potato, either. Make sure to walk him daily. You may find it very relaxing to take a leisurely stroll with your old pal plodding calmly along beside you! Just take him in when he gets tired, and keep excursions short in bad weather.
Comfort
Fido will become more sensitive to temperature extremes as he ages, and he may feel stiff and sore sometimes. We strongly recommend getting a good orthopedic doggy bed, so your pooch can snooze comfortably. Pet ramps or stairs will help your canine buddy get in and out of your car and, if he's allowed, your bed. Keep his claws trimmed, as overgrown nails can be both painful and problematic. Good dental care is also very important!
Love
One thing that won't change as your dog ages is his devotion to you. Fido is still the same loyal, faithful friend he always was, and what he needs most in his twilight years is your love. We advocate belly rubs, good conversation, ear scritches, and healthy snacks!
Do you have questions about caring for your senior dog? Call us! As your Lafayette vet clinic, we are here to help.