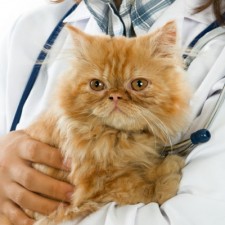 Your orange tabby Taffy has always made a stunning impression. This six-year-old girl's colorful coat and picture-perfect figure have given her "television star" good looks. Her quality diet and regular playtime sessions have helped her to stay in shape. Recently, however, Taffy has been overdoing the treats and slacking on the exercise. Now, her belly swings when she walks.
You're afraid those extra pounds will raise her risks for weight-related medical problems. Tomorrow, your Lafayette, LA veterinarian will give your expanding cat a physical exam and nutritional counseling.
Overflow of Overweight Cats
You've been noticing pudgy cats everywhere; and some felines are actually obese. Objectively speaking, 40 to 50 percent of pampered felines nationwide have gobbled too many kibbles for their super-low activity levels. These furry couch potatoes – including Taffy – are more susceptible to soft-tissue injuries and osteoarthritis. They can also experience overstressed muscles, ligaments, and joints.
Carnivore Nutrition Dilemma
With Taffy's carnivorous heritage, she'd probably rather catch and eat birds and mice every day. Because you won't permit that, you'd assume a commercial diet would be sufficient. However, many mass-manufactured foods don't incorporate the top-quality protein your cat requires. Instead, the blends include plant proteins, which she doesn't metabolize as well as animal-sourced proteins.
To compound the issue, she lacks enzymes that help her to metabolize extra carbohydrates.
Because her body doesn't know how to handle the carbs, it stores them as fat. Even worse, her tasty treats are loaded with empty calories, flavor boosters, and additional carbs. Finally, gobbling too many snacks could stifle her desire to crunch her healthy vet-approved food.
Pre-Program Health Check
Before addressing Taffy's extra weight, your vet wants to rule out medical and/or metabolic conditions that could keep her from safely dropping those pounds. She'll analyze blood work and urinalysis results before deciding how to proceed.
Weight Management Plan
If your cat gets the green light, the vet will unveil that all-important weight management plan. She'll likely choose a food designed for safe weight loss. She might create a more structured feeding schedule with few (or no) treats.
Each day, give Taffy plenty of vet-approved exercise. Over time, her body will start to shed that excess weight; and she'll be on the path to better health. If your cat needs a diet reboot, contact your Lafayette, LA veterinarian for expert assistance.