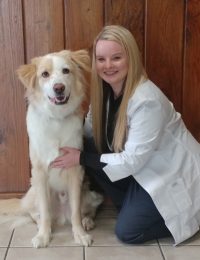 Associate Veterinarian
Dr. Ashlyn Overholt Guillot knew from a young age that she wanted to work with animals. From the time she could talk, she wanted to be a marine biologist and work with the dolphins and "Shamu" at Sea World. As she grew older, she realized that she had an immense passion for all creatures, which led her to the wonderful world of veterinary medicine.
Dr. Ashlyn grew up in Alexandria, a small town in central LA.  Upon completing her bachelor's degree in animal science at the University of Louisiana at Lafayette, Dr. Ashlyn headed to Louisiana State University School of Veterinary Medicine to earn her veterinary degree. Between her second and third years, Ashlyn married her high school sweetheart, Ethan. After graduating in 2017, she and her husband moved to Carencro to join the team here at The Veterinary Clinic as an Associate Veterinarian.
Dr. Ashlyn's favorite part of veterinary medicine is improving the lives of people who love animals as much as she does. She loves to watch owner's reactions as their sick pets become better and loves that she has the opportunity to be a part of that process. She also has a special interest in dermatology.
Dr. Ashlyn and her husband are driven by family values and will one day start a family of their own. Until then, Dr. Ashlyn has 2 fur children, Sassy, a 10 year old Pomeranian, and Snickers, a 4 year old Calico cat. Outside of her veterinary life, Dr. Ashlyn likes to go on cruises and enjoy amusement parks.